Firstly, What Is Yandex? Yandex is a Russian search engine company that is known by everyone for its Yandex Search Engine.
This is a Search engine company that basically starts with the yandex.ru name but the modified version of Yandex is yandex.com.
Russian Biggest search engine is Yandex, According to start counting, they catch around 48.79% market in Russia in 2019, compared to Google's 47.89%.
Yandex N.V. is a multinational I.T. company in Russia.
Yandex is one the biggest technology company in Russia, and this company offers different types of products and services for all.
One of the knowing reasons is that it is one of the biggest search engine companies for Russian. Also, this company is involved with lots of different related technology and the internet. 
These include:
Online advertising company

Email services via Yandex.Mail

Ride-hailing via Yandex.Taxi ( suddenly it collaborated with uber)

Yandex.Maps

App analytics system

Data management system

Smart home technology

A voice assistant called Alice

A web browser called Yan-dex Browser

Music streaming

eCommerce integration

Artificial intelligence

And many more…
Yandex was founded by Arkady Volozh (current CEO) in 1997, Ilya Segalovich, and Arkady Borkovsky. The Yandex name comes from the Phrase "Yet, and Dex comes from iNDEXer."
The Yan-dex company had an IPO in 2k11 and is now publically traded on the NASDAQ in the US, and its ticker symbol is YNDX.
At the time of my article, they have a market capitalization of $16.55 Billion.
In 2018, Yan-dex had covered global revenue of $1.85billion, which was an increase of around 13.52% over 2017.
You can learn about them from their about us page. Then you can read more info about Yan-dex financials on stock row and their relations page extra. Related Article: (WordPress Vs Blogger: Which one is better?)
What Is Yandex search engine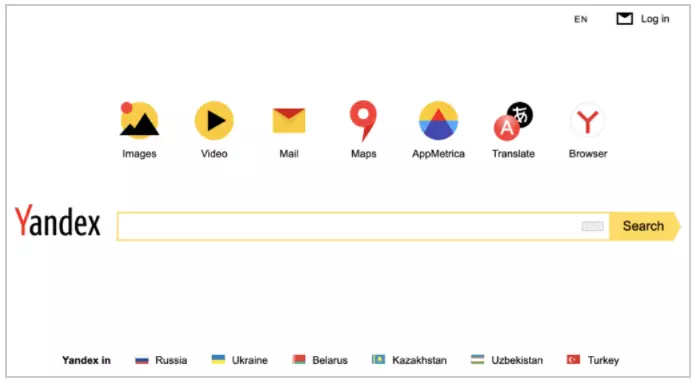 Yandex functionality is almost similar to other popular search engines like Google or Bing.
You type something on their search phrase and then hit the enter button. All search results will be appearing in front of you with Links, URLs, and descriptions.
Depending on your search query, you may also see all kinds of photos, images, videos,s or any results.
Here is a result when I type something on their search engine. Related Article: (Porto WordPress Theme Review – Multipurpose WordPress Theme)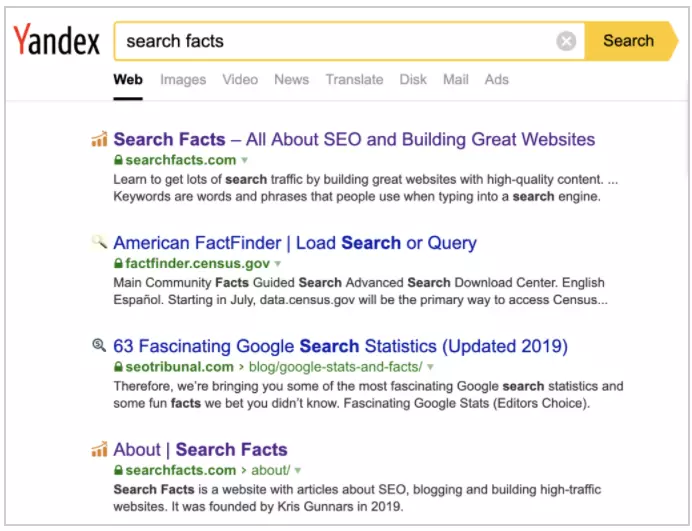 I've tried lots of time in the Yan-dex search engine with the different words it's working quite well. Most of the time, it's showing results like Google. 
But I'm facing a problem with this; when I try to type something in one Yan-dex Search Bar, the search results automatically change to Russian. But I was using the international language. This problem happens when every search phrase with "SEO" in its search results.
Same as Google, when you click tabs to switch to search results for News, videos, or images.
Interestingly, if you're feeling unhappy with the results of Yan-dex, then some buttons shift you to Google or bing with your search results.

Data is collected from the Search engine journal website, which said that voice search currently accounts for about 20% of searches.
Yandex search market share
As I mentioned before, the Yan-dex search engine covered 48.79%  market share in Russia, which is larger than google.
Keep in mind that this kind of result isn't correct properly. Some sources have said that Yan-dex shares over 50% of the market, and most people agree that Yan-dex is the most popular and most used web browser in Russia.
According to the results of the similar web, Yan-dex is the single most visited website or search engine in Russia.
However, Yan-dex is also a very popular website and search engine in many other countries than Russia.
This list includes countries are the Commonwealth of the Independent States, an organization of many countries that are always using this.
Here is Yandex's market share in several countries (Statcounter, Feb 2022):
Russia: 59.79%

Belarus: 21.38%

Kazakhstan: 19.88%

Tajikistan: 14.12%

Uzbekistan: 15.87%

Turkey: 15.67%

Kyrgyzstan: 8.61%

Turkmenistan: 7.73%

Ukraine: 6.98%

Armenia: 5.20%

Moldova: 4.40%

Georgia: 3.85%

Azerbaijan: 3.06%
Without Russia, Yan-dex is the second most used search engine all over the world after Google.
The main causes behind this are that a large number of amount of Russian-speaking people live or travel in Russia.
An interesting matter is that Yandex has been banned In Ukrain since 2k17. But the people of Ukraine use VPNs for using Yan-dex. That's so funny.
When sitting the content, Yan-dex is the smallest search engine company with a .55% market share.
That makes it the world's 5th biggest search engine after Google, Bing, Yahoo, and Baidu. Yandex and DuckDuckGo have almost similar uses, in 6th position with a 0.54% market share. 
How Yandex became more popular than Google in Russia
Russia is one of the countries where Google isn't as popular as Yandex.
Here're several reasons why Yandex defeated Google and became more popular.
1. Designed for the Russian language
The main reason is the language, The Russian language is slightly different from English, and even the alphabet has some differences.
In Russian, a single word has up to 20 different inflections, and nouns have three different numbers of gender, which makes its grammar very heard.
On the other hand, Yandex was designed specifically for the Russian language, so the people of Russia take more advantage of Yandex.
2. Portal and ecosystem
The search box of Yan-dex is more than a search box.
It also has a portal for world news, weather forecasts, and quick access to other services like maps and mail. This means that's people who visit Yan-dex only do not for the web.
In addition, Yan-dex producer service has grate combination. There is the best reason it's fully optimized for their language.
3. Android gives users the option to select Yandex
In the settlement in 2017, Google agreed to stop making their default search engine in Android in Russia.
Instead, Google allows its visitors to choose a default browser for their android device.
After these changes Index, users are increasing in Russia so much.
Here is the chart of who shared the Yandex market share from 2009 to 2019.
You see this the red number is decreased when Google does this decision in 2017.
4. Many Russians don't trust American companies
They're also a reason, most of the Russian people aren't believe in any American companies.
If you want to optimize your website performance in Yan-dex, you can do this with their free tools, Yan-dex Webmaster Tools.
This is a free feature provided by Yan-dex, similar to Google Search Console or Bing webmaster tools.
You can upload your website on Yandex to increase your website performance and more.
Additionally, doing SEO for all kinds of search engines is almost the same.
These are some ranking factors for getting the best results in Yandex:
Keywords:

Same as with other search engines, it's the way to ranking.

Search intent:

Same as Google, needed to fulfill content.

Content quality:

Needed high-quality content.

On-page SEO:

Optimize your title tags, descriptions, URLs, internal links, and more.

Meta keywords tag:

Interestingly, Yandex

still uses

the meta keywords tag for ranking purposes (Google ignores it).

Site speed:

Sites that load faster rank higher in Yandex.

Mobile usability:

It's important that your site functions well and looks good on mobile.

Geo-targeting:

The search results in Yandex may be completely different depending on the location of the searcher.

Popup penalty:

Like Google, Yandex can penalize sites that have intrusive and/or misleading popups.

Crawlability:

It's important that your site is not

blocking robots

and that it isn't hidden via a noindex tag.
Links: Inbound links are a ranking factor.