Last updated on October 4th, 2023 at 03:59 pm
Install a plugin on your WordPress website, and add many features to your website. But if you're new to WordPress, then don't worry. I got you.
WordPress plugins are like the plugins that you use on your smartphone. The plugin allows you to add many features to your WordPress websites, such as slide shows, contact forms, shopping carts, payment gateway, and more.
There are thousands number of paid and free plugins available in WordPress. In this step-by-step tutorial, we'll show you how to install a WordPress plugin. 
Before You Start The WordPress plugin Install
If you're using WordPress.com, you can't install plugins for your website. 
Sometimes, our visitors complain that they can't see the plugins option on their WordPress dashboard area. It is because they're using WordPress, which has some limitations.
You can't install plugins on wordpress.com until you upgrade your website to the business plan. On the other hand, you can install any plugin you want to install on your self-hosted wordpress.org website. You can check out the difference between wordpress.org vs. wordpress.com
If you want to switch your website from wordpress.com to wordpress.org, you can read this full tutorial on moving your website properly.
That's being said, let's go our topic on how to install a WordPress plugin on a WordPress website.
How to Install a WordPress Plugin
To take it easy, you can watch the video tutorial on installing a WordPress plugin on your website.
However, if you want to go with our text instructions, you can read our step-by-step tutorial on installing a WordPress plugin.
We cover all the topics in this tutorial for installing the plugin:
Installing a plugin from your WordPress dashboard

Uploading a plugin (Premium Plugin)

Manually installing from your cPanel area
Are you ready to start the process:
Installing a plugin from your WordPress dashboard
The easiest way to install a plugin is via searching a plugin. The downside of this option is that you only find all the free plugins from here, which is a very limited number from all the plugins. But you can find all the plugins which you need for your work. 
Firstly you need to visit the Plugins >> Add New inside your admin area.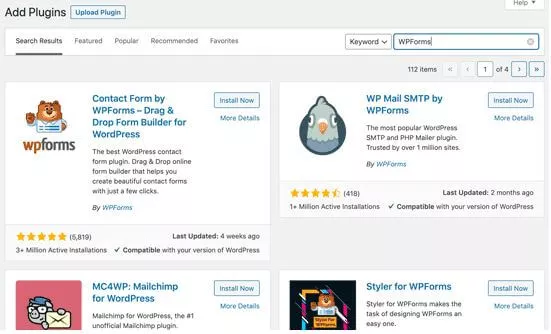 You'll find a screen like an image above the line. Find your perfect plugin by typing a plugin name or what you're looking for. After typing something on the search option, you can see many listings like the example below.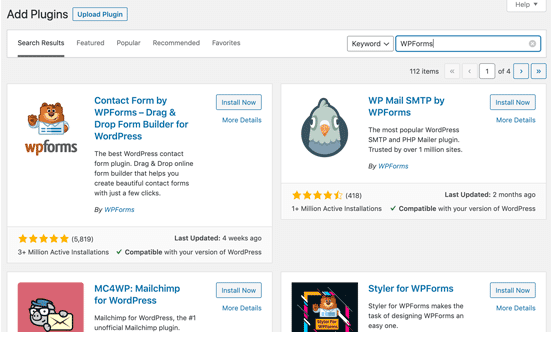 You pick the plugin which is best for you. Since in our search, we're looking for the best plugin for the contact form, which is the WPForms plugin, After finding the plugin, we'll click on the "Install Now" button next to it.
After clicking on the install now, WordPress downloaded the plugin and installed the plugin for us. After this process, we'll see that the "Install Now" button is gone, and a new button will appear, which is the "Active" button.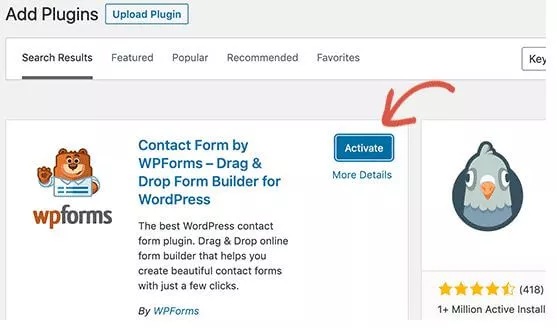 After this, a WordPress plugin is installed on your website, but it will not work unless you activate this plugin. So go ahead and click on the activate button to start with the plugin on your website.
Congrats! You successfully install your first WordPress plugin on your website.
Then step to configure the plugin's settings. These settings will not cover in this tutorial.
Uploading a plugin (Premium Plugin)
On the other hand, no paid themes are not listed in the WordPress plugin directory. And these kinds of plugins can't install like the first method.
That's why WordPress comes with the plugins upload method for installing premium possible. We'll show you how to install premium WordPress plugins using the upload option in the admin area. Also, you can upload free plugins from this area.
First, you need to down the plugin from the best sources (a zip file) like ThemeForest. Next, you need to go to the WordPress Admin area and go plugins >> Add new page.
After that, click on the "Upload Plugin" option on the page.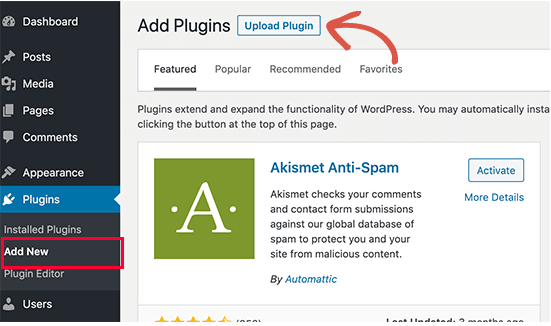 When you click on the upload plugin button, after a new option appears like "Choose File, " you click on the option downloaded earlier to your PC or Laptop.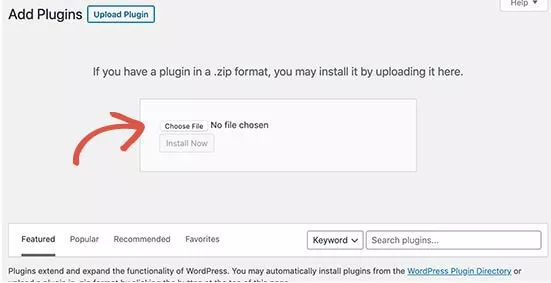 After selecting the file, you need to click on the "Install Now" button.
WordPress will now upload a plugin from your laptop or computer and install it for you. You will see a successful message after finishing the installation process.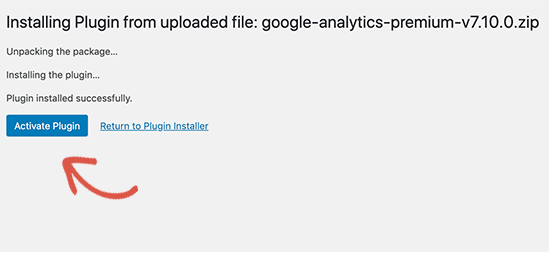 Once you successfully install the plugin, then you can activate your plugin using the "Active Now" button.
Now you can configure all the plugin settings to your needs. These settings are similar to other plugins.
How To Manually Install a WordPress Plugin using FTP
In some cases, your WordPress provider may have file upload restrictions that could limit your ability to install a plugin from your admin area.
If you face this kind of problem, you can install the plugin manually using the FTP.
The FTP server is not beginner-friendly.
First, you need to download the plugin from a verified store or ThemeForest (It must be a Zip File). Next, you need to extract the plugin from your computer.
Extract the plugin zip file with the same name. This is the folder that you need to upload to your website using the FTP client manually.
You would need to access your host through the FTP server. If you don't have your FTP username and password, you can contact your WordPress hosting provider and ask them.
Open the FTP server on your computer and connect with your website using the login details provided by your web host. Once you open the FTP server, you need to go to the /wp-content/plugins folder on your website.
Next, you need the folder extracted from the zip file to the /wp-content/plugins/ folder to your website server.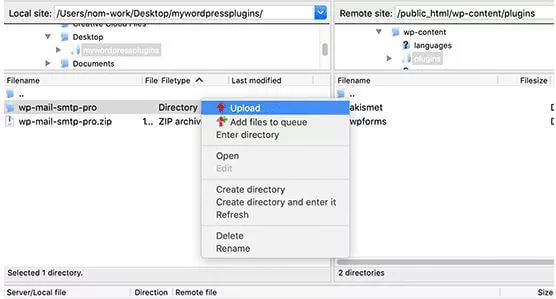 After you upload the files, you visit the WordPress admin area and click the plugins link in the admin menu. Then you'll see your plugin successfully installed on your website backend area.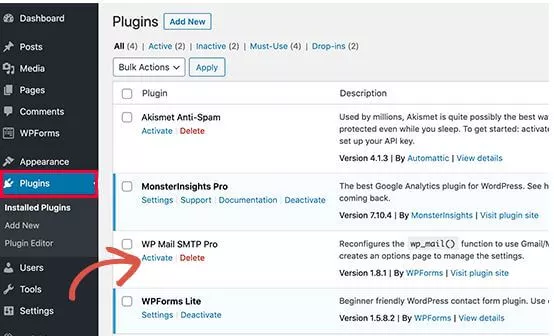 You need to click on the active link below the plugin then your plugin will be active.
FAQs All About Installing WordPress Plugins
As a beginner, you need a few questions about installing the WordPress plugins as the largest WordPress resource site, which you have to hear before.
Here are some frequently asked questions all about installing WordPress plugins.