Do you want to disable the language switcher on WordPress Login Page?
Disabling the language switcher options makes your default on your login page, but all users can change their language from their profile settings.
This tutorial will show you how to disable the multilingual switcher button on your WordPress login page.
Why Disable the Language Switcher on Admin Login Screen?
The WordPress 5.9 update comes with a new drop-down login option that lets users select a new language when logging into your website. 
If your website has more than one active language, the option will appear on the login screen.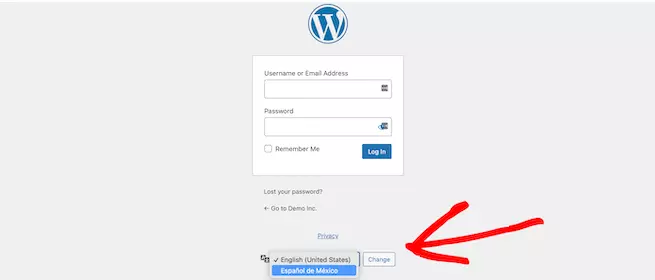 These features work well for some multilingual websites and teams with unique users who want to access the WordPress Dashboard in their native language.
But if you want to make your login page simple, and your users don't need to frequently switch their language, remove this option from your login page. It can also help you control your website login area page design.
Note: Keep in mind that the language selector doesn't make your website front-end multilingual. It translates your WordPress login ad WP password reset page and the WordPress dashboard. 
With that said, Let's show you the perfect method that helps you to disable the multilingual switcher on your WordPress website. Jump to the option which you want to follow for doing this. Bluehost Alternatives: Top 4 Best Better Hosting Providers
1. Disable the Language Switcher With A Plugin
The easiest and beginner-friendly way to remove the language switcher from the WordPress login screen is by disabling the login language switcher plugin.
The first thing that you need to do that Install the plugin.
After the activation of the plugin, the language switcher option will be automatically removed. There's no hidden additional setting for configuring the plugin.
Now, check your WordPress login screen; you'll see the standard login screen from your WordPress login bar. Top 5 Best Free Nonprofit Website Hosting: No Credit Card Required

2. Disable WordPress Login Language Switcher Without a Plugin
Another way to disable the language switcher is by adding some code to WordPress. If you don't haven't done this before, you can read this article on how to edit code and paste code in WordPress.
Then you copy the following code and paste it to your function.php file by using a code snippets plugin or a site-specific plugin.
| | |
| --- | --- |
| 1 | add_filter( 'login_display_language_dropdown', '__return_false' ); |
This snippet code automatically disables the language Changing option on your WordPress login screen. When you visit the login page, you see the language switcher option will be gone.
If you want to go with the last option in the future, then remove the following code which you added before.
We hope that this article helped you know how to disable the language switcher on the WordPress login bar. If any of your friends face this problem, please suggest this tutorial, or you can share this. 
And don't forget to join our email subscription list for don't miss any updates and deals.