Last updated on October 31st, 2023 at 06:54 pm
Live chat is the best way to communicate with your website visitors in real-time. It helps you to engage with your potential customers, answer their questions, and provide support instantly.
There are a lot of Live chat services available on the market, but not all of them are free. However, if you want to add live chat on website free, this guide is for you.
This tutorial will show you how to add a chat feature to a website. It'll help you add live chat in WordPress and provide you with all the essential features for free.
And when your business grows, you can easily migrate from the free version to their premium plan.
If you want to find the best live chat plugin, then you can read 13 Best WordPress Live Chat Plugins
Why Live Chat Will Benefit Your Business?
Before we dive into how to install live chat on WordPress, let's first understand why you need to add a live chat feature to your WordPress website.
Also, live chat features are a live saver for online e-commerce business owners. Here are a few reasons why you should add live chat on your website:
Real-time Conversion:

With live chat, you can instantly answer your visitors' questions and guide them towards making a purchase decision. This real-time conversation helps to convert potential leads into paying customers.

Increase Conversion Rate:

According to a case study by eMarketer, live chat can increase conversions by up to 45%. It allows you to provide personalized support and address any concerns or issues your visitors may have, leading to more sales.

Improve Website Experience:

Adding a live chat feature provides visitors with an easy and convenient way to communicate with you. This improves their overall experience on your website, making them more likely to return.

Build A Relationship:

Live chat allows you to have one-on-one conversations with your visitors, helping you build relationships with them. This can lead to increased customer loyalty and repeat business.

24/7 Support:

With live chat, you can provide round-the-clock support to your customers. This shows that you value their time and are always available to assist them with any queries or concerns they may have.
How to Add Live Chat in WordPress
How To Add Live Chat on Website Free (WordPress Tutorial
Now that we understand the benefits of adding a live chat feature let's look at how you can add it to your WordPress website for free.
There are various plugins available for WordPress that offer free live chat services. In this tutorial, we will be using Tidio as an example.
Step 1: Create An Account On Tidio
To add live chat on the website free, firstly, you need to create a free account at Tidio.com. To make your free account on Tidio, you must go to the Tidio.com website.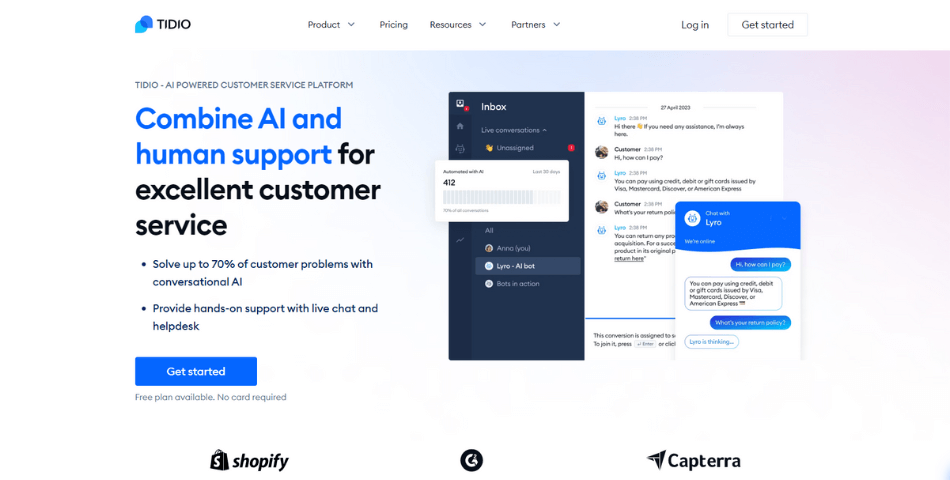 After coming to the Tidio website, you need to click on the "Get Started" button.
After clicking the Get Started button, you'll be redirected to their checkout page. When you visit their checkout page, you must create your free account by providing your Email, Password, and Website name.
Click the " Get Started for Free button. Then, your account will be created.
Then, In the first step, you need to provide a few pieces of information, like What's your name?, Why you want to use Tidio and Describe your job role. Then click on the Next button.
On the next page, you need to tell Tidio about your company. Don't worry; you don't need to share sensitive information. Just share the company's industry, size, How many inquiries you get each month, and how your website is built. Click the following button.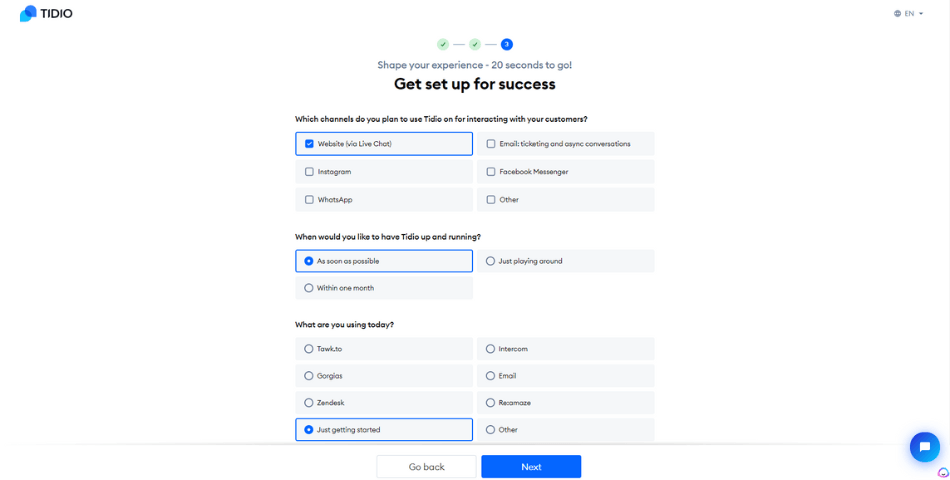 In the last step, check mark Website (via Live Chat), check all the recommended options, and click on the Next button.
Your account creation process on Tidio will end by clicking the Next button.
Step 2: Customize Tidio Dashboard
In this step, you need to customize your Tidio dashboard, like your website color, and add other information. So you need to click on the Customize the Widget Button.
Change your Widget appearance like Online Status, Widget Position, and Button Level.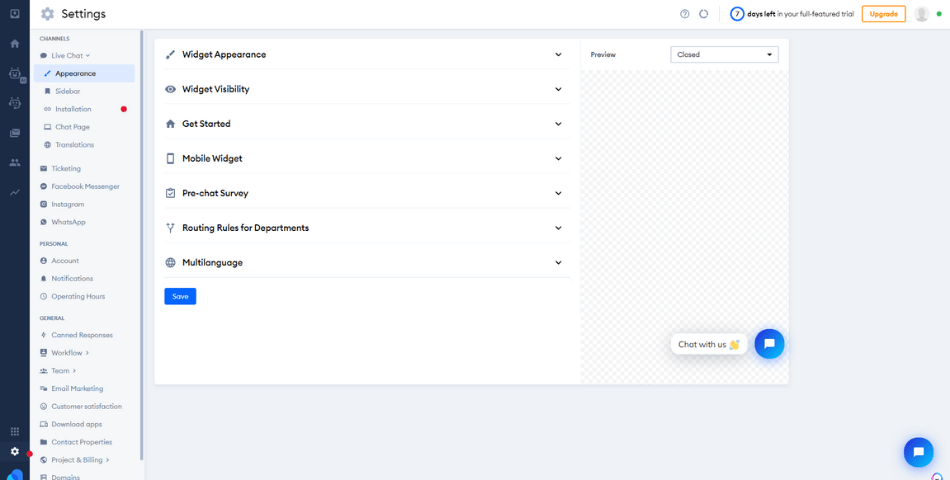 Then step up your Widget visibility, Get Started, Mobile Widget, Pre-chat Survey, Routing Rules for Department, and Multilanguage. So you also keep all of them as default.
And lastly, click on the Save button.
Step 3: How to Install Live Chat on WordPress
In this step, you need to log in to your WordPress dashboard. Then Navigate to the "Plugins" section and select "Add New".
Then, search for The "Tidio" plugin and click the Install Now button.
When you install the plugin, click on the Activate Button.
After activating the plugin, Click on the Tidio Chat option on the left-hand side of your WordPress admin panel.
Then you need to log in to the Tidio plugin.
Then you need to choose your project. And click on the Integrate selected project button.
Congratulation! You successfully completed all of the following processes. And Add Live Chat in WordPress.
This is how to add live chat in WordPress for free.
With Tidio, you get all the essential features to provide live support to your website visitors without paying a single penny.
Remember, adding a live chat feature is about increasing conversions and sales, building relationships with your customers, and providing them with exceptional customer service.
So, start adding a live chat on your website today!
If you're looking for ways to improve your online business and connect better with your audience, consider adding a live chat feature on your website for free. It's an easy and effective way to increase conversions, build relationships, and provide round-the-clock support to your customers.
With the steps mentioned above, you can easily install live chat on your WordPress website without hassle. So go ahead and give it a try!