Last updated on November 16th, 2023 at 10:48 am
Day by day, WordPress recipe plugins are constantly increasing and trending in 2023.
There are various reasons why food bloggers or restaurant owners prefer to use this type of plugin on their websites. Some may want to increase user engagement, while others may aim for a more organized approach to presenting their recipes online.
WordPress recipe plugin allows its users to display recipes professionally and appealingly. They offer many features, such as customizable templates, recipe indexes, nutritional information, etc.
In November 2023, Hundreds of Recipe plugins are available in the WordPress market. But today. We talk about the 9 most used WordPress Recipe plugins.
The benefit of Using WordPress Recipe Plugin on WordPress
The benefit of using a WordPress recipe plugin is limitless. A WordPress Repipe Plugin can transform a basic recipe into a visually appealing and user-friendly format.
Here are some of the benefits:
Customizable templates:

With the WordPress recipe plugin, you can choose and customize various templates to display your recipes attractively.

SEO Optimization:

Recipe plugins offer SEO-friendly features such as meta tags, short URLs, and social media integration, which can help improve your website's search engine ranking.

Mobile Responsive:

Most recipe plugins are designed to be mobile responsive, meaning your recipes will look great on any device, whether it's a desktop or a smartphone.

Nutritional Information:

Some recipe plugins allow you to input nutritional information for your recipes, making it easier for your audience to make healthier choices.

User Engagement:

Recipe plugins often come with features such as ratings and reviews, allowing users to interact and engage with your content.
Top 9 Most Used Best WordPress Recipe Plugins In 2023
WordPress marketplace is full of hundreds of recipe plugins. However, the number of plugins decreases when you need to find the perfect plugin for your website.
Here's our top pick of the 9 best WordPress Recipe Plugins that provide excellent features to their users. Most of them are entirely free to use:
WP Recipe Maker

Food Recipes For Divi

WP Delicious

WP Tasty

Total Recipe Generator

Recipe Card Blocks

Recipe Maker

RecipePress Reloaded

CookBook Recipe
The WP Recipe Maker is the most used recipe plugin in the WordPress industry; It is free to use and highly customizable.
Renowned for its versatility and comprehensive feature set, the WP Recipe Maker indisputably stands out among the best WordPress recipe plugins.
Install the process of this plugin like other WordPress plugins, and the user-friendly interface simplifies the recipe posting process, keeping your focus on the cooking, not the coding.
WP Recipe Maker excels in SEO optimization, ensuring your delicious creations don't go unnoticed on search engines, and offers unique features like adjustable serving sizes and automatic recipe scaling, tending to the needs of every home cook and professional chef alike.
Compatibility with both the Classic Editor and new Gutenberg editor, and includes an Elementor block and shortcode that can be used in other page builders.

Easy workflow to add recipes to any post or page, with schema.org/Recipe and How-to JSON-LD metadata optimized for Google Recipe search and non-food recipes, respectively.

Supports both regular and Guided Recipes for Google metadata, shoppable ingredients with the Shop with Instacart button, and is Google AMP compatible.

Integrates recipe metadata with Yoast SEO and Rank Math schema graph, with an option to disable metadata per recipe for non-food or DIY recipes.

Keyboard accessible and AMP compatible ratings for comments, interactive print recipe page with space for ads, and optional credit to your website.

The plugin is fully responsive, ensuring your recipes look good on any device, and has a template editor that lets you quickly change the look and feel to fit your website.

It has a built-in SEO check for your recipe metadata and is compatible with RTL languages.

It provides an import feature to bring your recipes from other recipe plugins.
WP Recipe Maker is a plugin for Food Bloggers or restaurant owners. And they have a lot of customization options for free, of course.
You need to go with their premium plan to unlock all the customization options. Their basic PREMIUM BUNDLE package comes with $49 only as a one-time fee.
If you're the most popular Divi WordPress theme user, then "Food Recipes for Divi" is your choice.
This WordPress recipe plugin wears the crown for its seamless blend of convenience and sophistication.
Food Recipes for Divi', comes with 20+ divi modules to create flexible layouts and many premade templates, making it a favorite among food bloggers and restaurant owners.
Its SEO-friendly properties and unique features set it apart, ensuring your culinary masterpieces capture the attention they fully deserve.
The plugin includes over 20 Divi modules for creating flexible layouts, catering to various presentation styles for your recipes.

Each module has plenty of styling options, allowing you to customize your recipe presentation extensively. Some possibilities include formatting for the Recipe Video, Recipe Image, Recipe Tools/Equipment, Recipe Instructions, Recipe Preparation Time, Recipe Cook Time, etc.

With pre-built Divi layouts, you can import and create beautiful recipe pages in minutes, saving you lots of effort and time.

This feature simplifies the technical aspect of SEO by handling the Recipe LD+JSON Schema. You only need to provide the data, and the plugin does the heavy lifting, enhancing your food blog's ranking and visitor traffic.

The plugin includes a comprehensive rating system with a Recipe Rating Summary, Input Form, and Listing, encouraging user interaction and feedback.

These features allow you to provide additional information about your recipes, such as nutrient content, cuisine type, and categories, providing readers with a comprehensive view of your recipe.
As you know, Divi theme doesn't offer any free plugins with their music, So you also need to buy the "Food Recipe For Divi."
This plugin costs you $69.99, and you'll get a year of updates and support from the Elegantthemes.
Delicious Recipes' is another of the best WordPress themes for your ideal companion for culinary creativity and recipe management.
Packed with flexible features, user-friendly interfaces, and superior SEO optimization, 'Delicious Recipes dictates the standard in the WordPress recipe plugin landscape.
Among its standout features, 'Delicious Recipes' flaunts recipe image and video galleries, unlimited recipe creation, detailed text instructions, and printable recipe options – all easily operated from your WordPress Dashboard.
Its integration with the WordPress REST API, unique to' Delicious Recipes,' is built using advanced WordPress development patterns with React JS. It fully competes with the new Gutenberg Editor and facilitates seamless recipe creation and management.
You can create unlimited professional-looking recipes for your extensive recipe website needs. 

It is Google Structured Data optimized and supports schema, which helps your recipes rank better and higher on search engines. 

It has a clean and beautiful recipe card to display your recipes elegantly. 

The plugin includes an advanced search option, allowing readers to filter and find recipes easily. 

With the Schema markup, your recipes will appear as Rich Recipe Pins on Pinterest. 

Your readers can rate your recipes and share their valuable feedback. 

It has highly customizable and easy-to-use recipe widgets like Featured Recipes, Recipe Tags, Recipe Categories, Popular Recipes, Recent Recipes and Recipe Keys. 

You can customize email templates sent to your readers on registration and password reset. 

You can also add your custom units to predefined units for ingredients. 

You can easily upload custom icons for your recipe keys, courses, cooking methods, and recipe tags. 

It allows you to customize your WordPress recipe color to your brand color.
If you decide to go with the Delicious Recipe plugin, then you don't need to consider the pricing of this plugin. This plugin is accessible on your WordPress website to display beautiful recipes for visitors.
If you want all of this plugin's customization features, you need to go with their pro plan. Delicious Recipe's single-site license starts from $59 only for 1-year update and support.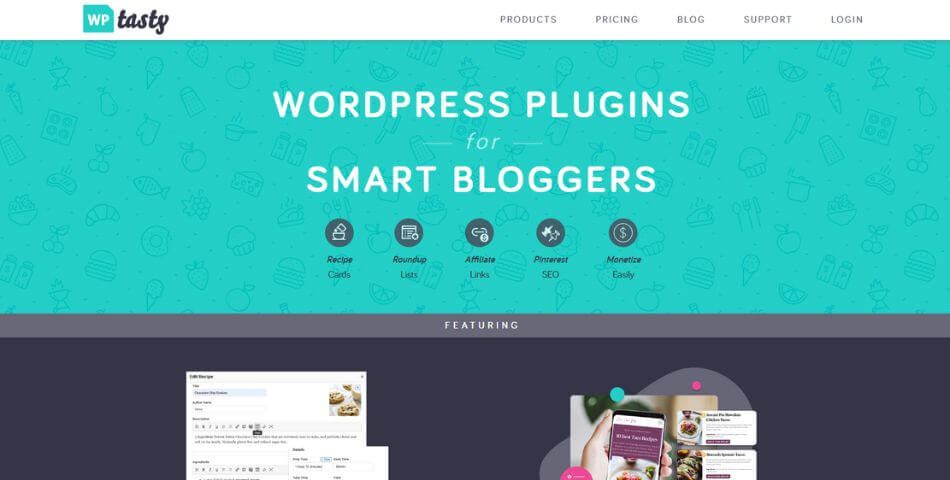 WP Tasty is another popular name in WordPress Recipe Plugin.
Tailored to perfection, 'WP Tasty outshines the rest with its intuitive interface, integrated process, and unparalleled user experience.
WP Tasty plugins have impressive features, including an SEO-friendly framework, easy recipe input, and a responsive design that ensures your food blog looks stunning on any device.
Setting 'WP Tasty' apart from the crowd is its ability to automatically generate nutrition facts, providing your readers with valuable information at a glance, making it a versatile tool for the discerning food blogger.
It allows you to add recipes easily and provides a shortcode for any page or post.

The plugin has built-in support for recipe-rich snippets, ensuring your recipes stand out in search engine results and attract more visitors.

You can choose from various customizable recipe card designs to match the aesthetic of your website.

WP Tasty offers advanced features such as adding recipe notes, ingredient groups, and instructions images for a more detailed and visually appealing recipe.

The plugin integrates with popular email marketing services like Mailchimp, allowing you to grow your subscriber list and send newsletters to your readers.
WP Tasty doesn't come with the free option, So if you want to use the WP Tasty plugin, you need to go with their premium package.
Their basic plan comes with $49/year for a single website. But if you want to use the WP Tasty plugin on multiple sites, you need to upgrade your plan. Their all-access license comes with $199/year, and you can use the plugin for up to 25 websites.
5. Total Recipe Generator
Total Recipe Generator is a great plugin that you can use as a WordPress recipe plugin. This plugin is designed as an extension for the Elementor page builder and sets the bar high in online recipe content creation.
The Total Recipe Generator is the ultimate weapon for savvy food bloggers, promising superior SEO optimization, ease of use, and a smooth integrated process. Its unique features are tailored to ensure your food blog stands out in a crowd, guaranteeing a boost in your site's online presence.
This plugin has remarkable features, from Schema microdata and Nutrition Facts to JSON LD microdata and Meta tags for "Recipe" content type. The well-organized semantic hierarchy of your online recipe content will impress both search engines and your site visitors.
The Total Recipe Generator is SEO-friendly and supports modifying core template files, offering theme developers a good scope for creativity and modification. With a clean design, well-documented code, and free and pro versions available, this WordPress Recipe Plugin is a game changer in the digital culinary world.
The Total Recipe Generator boasts a clean, minimalist design ready for WordPress 6.1.x.

It integrates seamlessly with the Elementor page builder, supporting free and paid versions.

The plugin is compatible with page, post, and public custom post types.

It offers pre-built recipe templates for instant usage and supports a drag-and-drop interface as an Elementor Widget.

With this plugin, you can easily format your recipe meta-data, including prep time, cook time, total time, yield, total cost, serving size, cost per serving, and more.

Choose your recipe image from the featured image or media library. The plugin can resize the recipe image on the fly with custom dimensions and hard cropping.

It supports internal links for Recipe Meta and custom author names and author URLs.

Show/hide recipe name, summary, image, author, date, etc., if your theme already shows these elements.

The plugin includes built-in social sharing buttons for recipe content.

It supports valid and recommended Schema Microdata for Recipe content.
Total Recipe Generator is another premium plugin available in the Themeforest marketplace.
This plugin is available for only $29, and you'll receive six months of premium support and updates from the plugin authors.
Recipe Card Blocks is a superior choice among WordPress recipe plugins and one of the most popular WordPress recipe plugins in the marketplace.
Its integrated process and exceptional ease of use make it the ideal tool for professional food bloggers and culinary enthusiasts. With features like streamlined recipe creation and innovative shareability, it effortlessly transforms your website into a gastronomic hub.
Recipe Card Blocks is not just another plugin; it's your secret weapon, boasting unique features that set it apart. Recipe Card Blocks is a game-changer from its SEO-friendly framework that optimizes your content for search engines to its human-like writing style that engages your readers.
Join the 10,000+ websites already reaping the benefits of increased Google traffic with Recipe Card Blocks, and let your food recipes take center stage!
Recipe Card Blocks boasts full Elementor support and structured data integration, ensuring a seamless user experience and better search engine visibility.

It provides AMP support, ensuring your recipes load quickly on mobile devices, improving user experience, and boosting your site's ranking on Google.

This plugin offers multiple designs, allowing you to choose a layout that perfectly suits your site's aesthetic.

It is Gutenberg-ready, meaning you can use it with the latest WordPress editor for a smooth, modern editing experience.

Recipe Card Blocks is compatible with any theme, allowing you to choose the design that best represents your brand.

It supports video integration, allowing you to add recipe videos to engage your audience better and provide clear, step-by-step instructions.

The plugin is GDPR-compliant, so you can be confident your site is adhering to the latest privacy regulations.

Its 'Bulk Add' feature simplifies adding ingredients and directions, saving time and effort.

Recipe Card Blocks also provides WPML support, making it easy to translate your recipes into multiple languages and cater to an international audience.

It comes with a recipe shortcode, enabling you to easily add recipes to any post or page on your site.
Recipe Card Blocks is fully free to use for any WordPress website. But their free plan comes with Limited features.
To unlock more premium features, you must go with their premium plan. Their premium plan starts at $59/year for a single website.
Recipe Maker is another ultimate WordPress recipe plugin. This plugin is unparalleled in the digital culinary sphere, offering a unique blend of user-friendly features and strategic search engine optimization.
Recipe Maker provides an intuitive template editor, enabling you to create professional recipes easily.
This plugin goes beyond traditional offerings, equipped with schema.org and Recipe JSON-LD metadata, fully optimized for Google. This ensures your recipes reach a wider audience, amplifying your blog's organic reach.
Recipe Maker allows you to edit on the go with the WYSIWYG Editors for adding new recipes or creating your recipe template.
Recipe Maker provides a recipe template editor, making it easy to customize your recipes with different layouts, fonts, and colors.

It's completely responsive, ensuring your recipes look great on all devices.

The plugin also offers options for ingredients, instructions, tips, nutrition information, cooking time, and much more.

You can add videos to your recipes using Recipe Maker's video integration feature.

It supports print-friendly recipes, allowing readers to quickly print them without navigating through the entire post.

Recipe Maker is translation-ready, so you can cater to an international audience and expand your reach.

You have complete control over the design of your recipe cards with customizable images, colors, fonts, and more.
Recipe Maker plugin is entirely free to use on your Recipe website. If you're going with this plugin, you don't need to worry about any premium features.
Everything in this plugin you'll able to use for free, of course.
RecipePress Reloaded is the ultimate companion for managing and showcasing your incredible recipes on your WordPress website.
RecipePress Reloaded is not just another plugin; the premier WordPress recipe plugin puts your culinary creations at the forefront. It is designed for speed, efficiency, and usability, offering an unparalleled experience for editors and readers.
Its standout features include an integrated process for seamless recipe management and remarkable ease of use. With RecipePress Reloaded, creating, organizing, and sharing your recipes becomes as enjoyable as the culinary process. The plugin allows you to present your recipes in standalone posts or incorporate them into your content, providing extreme flexibility.
RecipePress Reloaded comes with the best features to set RecipePress Reloaded apart. Notably, it's SEO-friendly, ensuring your recipes get the visibility they deserve. The plugin is equipped with Google's JSON-LD recipe schema information, optimizing your content for search engines.
RecipePress Reloaded provides a custom post type for recipes, making it quick and easy to input your recipes.

It allows you to group ingredients and instructions into sets, such as for a cake and its topping, streamlining the cooking process for your readers.

The plugin enables you to add process shots to each step of the recipe instruction, creating a more engaging and helpful user experience.

RecipePress Reloaded supports all the extra metadata you need for your recipes, such as diet type and recipe source.

It offers user-submitted 5-star rating systems for recipes, providing complete control.

The plugin displays serving size, preparation, cooking times, and nutritional information, offering your readers all the details they need.

You can include recipes in your usual posts or pages using shortcodes.

RecipePress Reloaded supports search engine-friendly recipe output using Google's recipe JSON-LD format.

It offers various templates to determine how your recipes should look, or you can create your own.
RecipePress Reloaded is another of the best free-to-use WordPress Recipe Plugin. This plugin doesn't offer any premium features.
That allows you to use everything you've on your plugin.
The cookbook is a beautifully handcrafted WordPress recipe plugin, setting a new standard for food bloggers worldwide.
One of the standout reasons that makes Cookbook the best WordPress recipe plugin is its robust integration process. The plugin has been meticulously designed to offer a user-friendly interface that makes recipe publishing a breeze.
Cookbook offers some of the best and most efficient features in a WordPress recipe plugin. These features include an integrated process that allows for easy addition, customization, and management of recipes.
Cookbook doesn't merely offer unique features; it provides a complete culinary publishing solution. The plugin is built to be SEO-friendly, ensuring your recipes are positioned for maximum online visibility.
Cookbook provides a recipe shortcode builder, enabling you to easily create and customize your recipe templates.

It is fully responsive, ensuring your recipes look perfect on all devices.

The plugin offers options for recipe nutrition facts, including serving size, calories, carbohydrates, fats, proteins, and much more.

You can also add video tutorials to your recipes using Cookbook's video integration feature.

Cookbook provides a recipe index page, allowing readers to browse your recipes in one place quickly.

The plugin's print-friendly option lets users print recipes without distractions from the rest of the post content.

You have complete design control over your recipe cards, with customizable images, colors, fonts, and more.
CookBook doesn't have any free option, so if you want to use this plugin, you need to buy their premium plan.
Their premium plan comes with $59 for a lifetime, and this plugin allows you to use up to 10 WordPress websites.
This is the list of the best WordPress recipe plugins you can use to make your website more attractive and functional.
If you're the one who's in saving mode, then you can go to the "WP Recipe Maker" plugin. WP Recipe Maker provides you with everything to display your recipe in a beautiful way.
You can use the "Food Recipes for Divi" plugin if you're a Divi user. Food Recipes for Divi provides you with a full-page recipe template, which is fully compatible with Divi.
If you're looking for a free and easy-to-use WordPress recipe plugin, then RecipePress Reloaded is the one for you. It offers all the necessary features without any premium cost.
Thanks for your valuable time. Still, if you've any further questions, then you can comment below.