Last updated on November 8th, 2023 at 10:00 pm
TikTok is the most viral social media platform in the world, with over 800 million active users worldwide.
By using a WordPress TikTok plugin, you can easily embed TikTok Feed video on your WordPress website.
Using a TikTok Feed video on your website will help you to engage your audience and keep them entertained.
In the WordPress marketplace, there are a lot of plugins available that help you embed TikTok on your WordPress website.
But In this article, we'll discuss the 7 best TikTok plugins for WordPress.
The benefit of using a TikTok Plugin
Embedding TikTok videos helps you to create interactive and engaging content on your website.
It also allows you to showcase user-generated content, increasing trust and credibility for your brand.
Here are a few reasons why you should use a WordPress TikTok plugin:
Easy integration:

A TikTok plugin makes it easy to embed videos on your website without any coding knowledge.

Saves time:

It eliminates the need to manually upload videos onto your website, saving you time and effort.

Better user experience:

With a TikTok plugin, visitors can watch videos directly on your website instead of being redirected to another platform.

Increased engagement rate:

The interactive nature of TikTok videos can improve the user engagement rate on your website.

Improved SEO:

Using a plugin to embed TikTok videos can improve your website's search engine rankings, as it adds fresh and relevant content.
What are the 7 Best TikTok Plugin?
More than a hundred TikTok plugins are available in the WordPress plugin market. But only some of them can fulfill your needs. Most of the plugins have a few downsides or higher pricing plans.
But the following WordPress TikTok plugins offer excellent features, easy integration, and affordable pricing plans, and most of them are entirely free to use.
QuadLayers TikTok Feed

TikTok Feed Plugin By Tagembed

Embed Block for TikTok

TikTok Feed Plugin

TikTok Feed By Elfsight

Easy Tiktok Feed

walls.io
1. QuadLayers TikTok Feed
QuadLayers TikTok Feed is a highly user-friendly TikTok plugin designed to embed TikTok feeds on the WordPress website.
This plugin keeps pace with social media's rapidly evolving landscape, especially the phenomenal growth witnessed by TikTok in recent months. With the rise in TikTok's user base, it is crucial to include new feeds to stay relevant to your audience.
The plugin allows you to integrate TikTok effortlessly feeds from specific user IDs or hashtags into your WordPress website. It provides a customizable layout, with choices of gallery or carousel displays for the free version and the addition of masonry or highlight options for premium users.
Additionally, it offers extensive customization of display boxes, images, backgrounds, masks, and buttons. This ensures that your embedded TikTok feed not only provides engaging content but also blends seamlessly with your website's design and aesthetics.
Simplifies video download.

Face your TikTok Video data from your feed, as likes and comments.

Updating your site by showing new videos

Responsive with any WordPress theme

Advanced caching with the best loading speed

Lots of display style

Pop-up media lightbox

Allow to create customized feed
QuadLayers TikTok Feed is free to use and one of the best plugins that you can try.
Their free plan allows you to go with 2 different display styles for your video feeds. But if you want more advanced features and up to 10 display styles, you must go with their premium option.
Their single plugin license comes with $89 for a lifetime deal.
2. TikTok Feed Plugin By Tagembed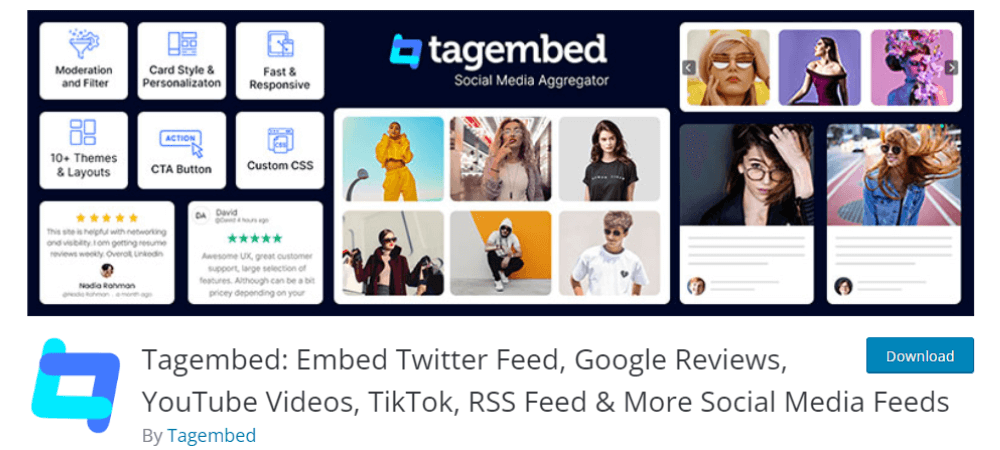 Tagembed's TikTok Feed Plugin is a powerhouse for social media aggregation, allowing users to embed TikTok feeds.
The plugin also offers powerful customization options, allowing users to refine the aesthetics and functionality of their widgets to better align with their brand. This is combined with the ability to create user-generated content galleries and display social media feeds on a website.
With Tagembed, user control extends beyond customization; it provides a moderation panel to filter and review content before it goes live on the website. This ensures the content aligns with the brand's messaging and avoids potential pitfalls associated with user-generated content.
Tagembed also provides users with valuable insights into the performance of their social media feeds and boasts a responsive support team ready to assist with any issues users may encounter. By installing this plugin, brands can enhance their social media presence, boosting engagement and connectivity.
Hassle-free embed process.

Facilitates control of the number of feeds you want to display.

Offers custom design options for your meals.

It lets you choose a mix of different social media platforms for providing unique content to your website visitors.

Provides real-time moderation of your feeds.
Tagembed is the most popular TikTok feed plugin, allowing you up to 2000/month view for free.
If you cross the monthly limit of 2000 pageviews, you must go with their premium plan.
Tagembed basic plan comes with $19/month and allows you to up to 20000 monthly page pages and create 2 unique feeds for your WordPress website.
3. Embed Block for TikTok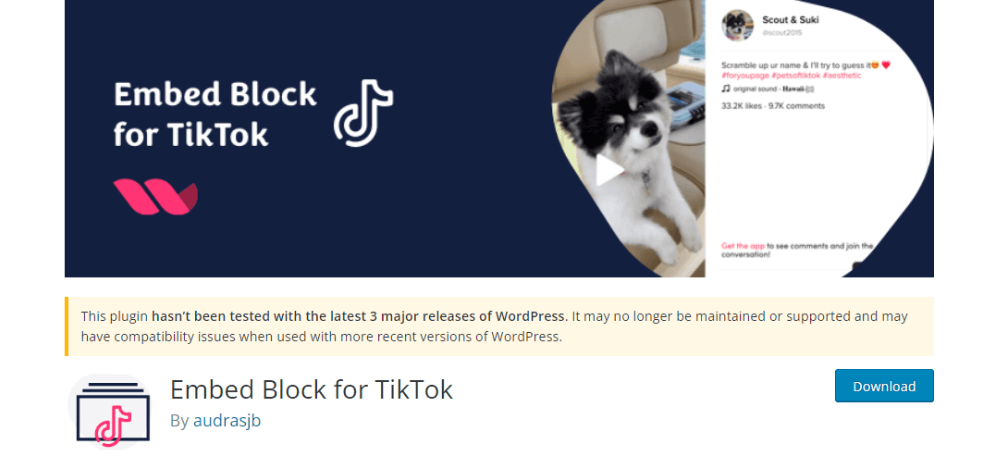 Embed Block for TikTok is another of the best WordPress plugins that helps both users of the Block and Classic Editors.
The plugin is user-friendly, allowing seamless integration with just a copy-paste of the TikTok video URL. You don't need complex coding or technical knowledge, thus saving time and enhancing the overall user experience.
For those seeking additional customization, the plugin offers a dedicated Gutenberg block with more setting options. This feature enables you to fine-tune the display of your TikTok content, ensuring it aligns perfectly with your website's design and user interface.
In essence, Embed Block for TikTok consolidates ease of use with versatile functionality, supporting both Classic and Block Editor users.
Gutenberg block for advanced customization options.

Compatible with both Block and Classic Editor.

Supports multiple TikTok video URLs in a single partnership.

No coding is required; copy-paste the video URL to embed.
Embed Block for TikTok is entirely free to use, making it an excellent choice for those people who don't need to spend money on a TikTok feeds plugin.
TikTok Feed Plugin is a well-known block plugin designed to create an engaging digital experience. It's purpose-built, allowing you to embed your TikTok feed directly on your website.
This plugin stands out for its flexibility and user-friendly interface. It's crafted to enable users to personify their widgets and provide any desired look and feel.
The TikTok Feed Plugin not only brings your TikTok feed to your website but also turns casual website visitors into TikTok followers. By using the TikTok Feed plugin, you can also grow significantly and boost your TikTok following and engagement.
In summary, TikTok Feed Plugin is a unique blend of user-friendliness and versatility. It's a must-have tool for those seeking to intensify their TikTok engagement and expand their followers base.
Authorization and option to remove Authorization.

Clear Cache TikTok profile and feeds show.

Opportunity to show just TikTok feeds.

Features to show/hide TikTok profile, profile image, profile name, share button, profile info count, profile biography.

Customizable profile alignment, color, background color, padding.

Configurable profile shares button padding, color, and hover color.

Column, column gap, and row gap options for video layout.

Video popup slide and thumbnail options.

Customizable TikTok load more button color and hover color.

Default show of 9 videos.
TikTok Feed Plugin offers a free version with a limited set of features.
To unlock more advanced features and functionalities, you can use their premium plan, which starts at $29.99 for a single website lifetime license.
Their premium plan provides many features such as Show Hide Video Overly like, share and view, three profile and layout, info style, load more button, and many more.
5. TikTok Feed By Elfsight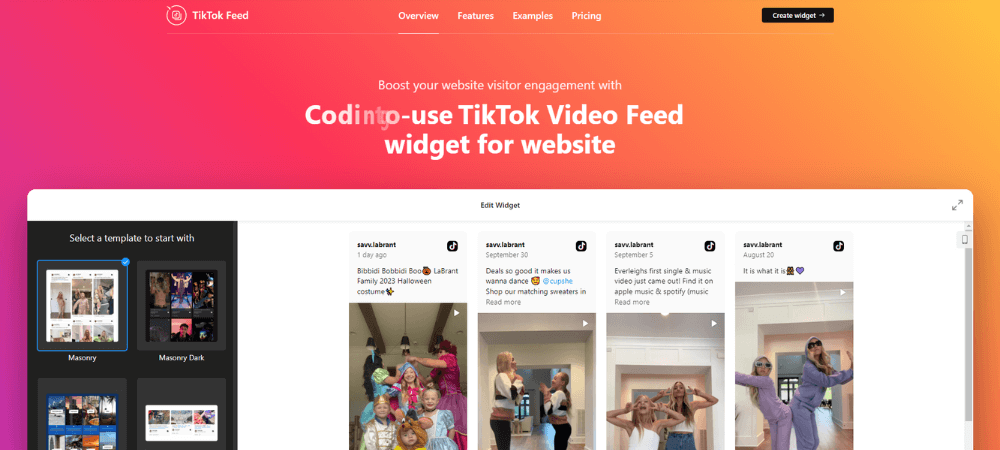 Elfsight TikTok Feed plugin is a highly configurable and robust tool that lets users easily integrate their TikTok content directly on their website.
The plugin offers easy customization options, ranging from layout, design, and colors to widget size. Users can customize the position of their feeds, set up filters for unwanted content, and even enable autoplay for an interactive experience.
Another exciting feature of this plugin is the ability to display a mix of TikTok profiles and hashtags in one feed, providing a diverse range of content for website visitors.
In short, Elfsight TikTok Feed Plugin is an all-in-one solution for showcasing your TikTok content on your website with complete control over the design and functionality.
Customizable layout and design options.

Ability to display multiple TikTok profiles and hashtags in one feed.

The auto-update feature ensures the latest content is always displayed.

Advanced moderation tools for filtering out unwanted content.
Elfsight TikTok Feed Plugin offers a free version, which is free up to 200 page views.
If you have a good amount of traffic on your website, you must go with their premium plan; their single license price starts at $5/month.
Their premium plan offers up to 150000 page views, priority support, 21 widgets, Free installation services, 100% ads free, and much more.
Easy TikTok Feed is an ideal plugin for beginners looking to integrate their TikTok videos into their WordPress site.
This plugin comes with access to customization options; videos can be tailored to fit the aesthetic and functionality of your site. This flexibility ensures seamless integration, offering a cohesive user experience.
Moreover, Easy TikTok Feed offers an effective way to monetize your TikTok content. Integrating videos with Google Adsense and affiliate links opens up additional revenue streams. This feature allows users to earn from their TikTok content while enhancing their website's content offerings.
In essence, Easy TikTok Feed is a comprehensive solution for those seeking a simple yet effective way to leverage their TikTok content.
Responsive design for seamless integration with any website.

Easy customization options for video size, autoplay, and columns.

Built-in monetization features through Google Adsense and affiliate links.
Easy TikTok Feed is entirely free to use for both personal and commercial purposes, making it an ideal plugin for beginners and small businesses.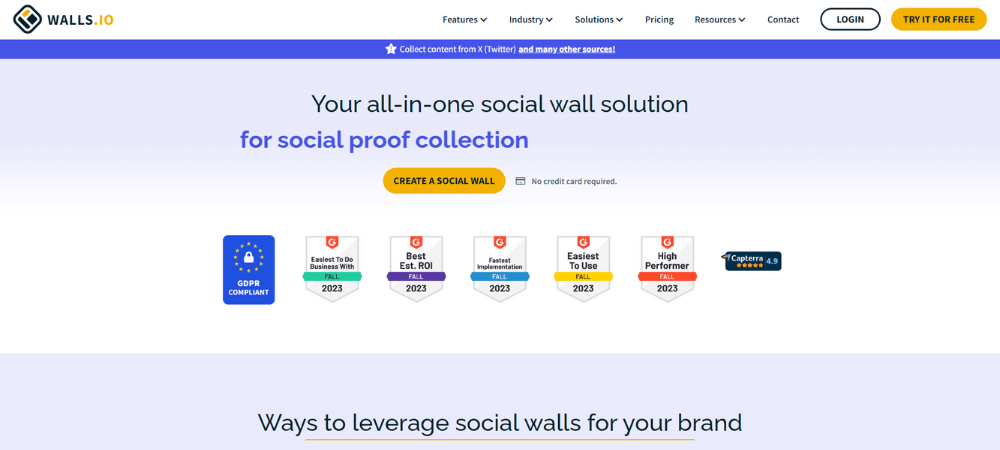 Walls.io is your go-to solution for a versatile social wall that integrates content from numerous social platforms directly into your WordPress website.
This plugin stands distinct from other social walls by allowing visitors to upload content directly to the wall using Direct Posts, enhancing interaction and engagement.
The Walls.io WordPress plugin simplifies integrating your social media feed into WordPress. No programming skills are necessary, making it an accessible tool for many users. With its user-friendly interface, it only takes a minute to get your social media feed up and running on your website.
In conclusion, Walls.io offers a comprehensive and straightforward solution for those seeking to display a dynamic mix of social media content on their website.
Multidimensional content aggregation from numerous social platforms.

Direct Posts feature for user-generated content.

Comprehensive customization options, including CSS tweaks.

Robust text analysis and image-based spam detection.

Advanced moderation options, including language and blacklist filters.

Allows the addition of custom content for diverse user engagement.

Fully responsive and mobile-ready display.
Wall.io is a freemium plugin that allows you to embed your TikTok video on your WordPress website.
This plugin also comes with a premium plan, and its basic plan will cost you $55/month for a single video source.
Their premium plan also offers 14 Platforms supported, Unlimited screens, Unlimited embeds, Unlimited posts, Priority support, and more.
Those are the 7 best TikTok feed plugins for WordPress. All these plugins offer unique features, and it's up to you to choose the one that best suits your needs.
If you want to choose the best plugin to Embed TikTok videos on your WordPress website, I recommend the "QuadLayers TikTok Feed" plugin. You can follow this tutorial to Embed TikTok video on your WordPress website.
By using a TikTok video on your Website post or page, you can more engage with your audience. This will help you to increase your session duration, and you'll get a higher rank on Google.
If you want to Embed video from multiple platforms, then you can go with the Walls.io plugin. It is a powerful social wall plugin that offers multi-dimensional content aggregation from numerous social media platforms.
Choose the right WordPress TikTok plugin for your Website and take your online presence to the next level.